Grief, Loss & Bereavement 
Grief is a natural response to losing someone or something that is important to you.
It is part of being human.   Whether we have lost someone we loved, or we are grieving a stage of life, our health, our trust – we all grieve.
And there is no one right way to grieve.  No stages you must go through.
Except to feel it.
What we feel, we can heal.
It can be shocking to feel the depths of grief. 
It can feel like a tsunami at times, a punch in the gut, or a listless depression.
We need and deserve support during those times.  But that is challenging in this grief-averse culture we live in.
I can help. 
I offer compassionate grief counselling to support you through working through your grief, loss and bereavement.
Whether the loss is someone you care about, your health,
your way of life or your sense of safety in the world,
You are not alone. 
"Grief offers a wild alchemy that transmutes suffering into fertile ground.
We are made real and tangible by the experience of sorrow, adding substance and weight to our world.
We are stripped of excess and revealed as human in our times of grief. In a very real way grief ripens us,
pulls up from the depths of our souls what is most authentic in our beings.
In truth, without some familiarity with sorrow, we do not mature as men and women.
It is the broken heart, the heart that knows sorrow that is also capable of genuine love."
Francis Wheller
Illness
Illness – acute, chronic or terminal – can be a lonely and isolating time.  There can be so many losses, feelings and choices to navigate.
You deserve support.
May you find in yourself
a courageous hospitality
Toward what is difficult,
Painful, and unknown.
May you learn to use this illness
As a lantern to illuminate
The new qualities that will emerge in you.
–John O'Donohue, "A Blessing for a Friend on the Arrival of Illness"
Life Review and Honoring your Life
Let's talk about your life – your dreams and despairs – and what holds meaning for you.
Let's explore forgiveness of yourself – and others if appropriate. Let's see if there is anything left unsaid?
Care for the Caregiver
Caring for others who are suffering is important work. Probably the most important work we can do as human beings. 
And it can wear us down to the bone if we are not careful.
We are hardwired to feel another person's pain.  This is part of being human. 
We actually experience their suffering in our own body. 
This empathic resonance is powerfully healing. 
But when the suffering of another is prolonged, we can get exhausted.  Irritable. Reactive. Burned out.
Learning to care for ourselves while caring for others is possible.
Mindfulness training helps. Self-Compassion practice helps. Why?
Because it teaches us how to include ourselves in our big arms of compassion for others. 
For more information check out our upcoming trainings in Mindful Self-Compassion
Traumatic Loss
Traumatic Grief is the grief that accompanies unexpected and/or traumatic loss.
In these situations, post traumatic stress can be interwoven with the usual grief process and counselling support addresses both.
"We will not figure our way through this maze of grief and suffering. We must, instead, learn to turn toward our sorrows with kindness, tenderness, and affection. Lean in. Offer love, a touch of affection. Nothing ever heals in an atmosphere of judgment or criticism. We contract and get small under such conditions. We open and soften only when the space around us invites revelation and connection."
Franics Weller, The Wild Edge of Sorrow
Grief and the Body
Grief and loss are powerful emotions. For many of us, we are used to suppressing these difficult emotions.
We try to avoid it, or numb it.  But it stays in our body.  The body keeps score of our unmourned losses.
Part of our healing through grief comes from turning towards the difficult feelings we are holding and learning to feel it.
Part of our healing through grief comes through working with the body.
Where do you hold your grief, loss and stress in your body?
It could be in your heart, your neck, your jaws, your gut.  It is different for each of us and it can shift.
Imagine putting a warm soothing cloth on that part of your body.
Just caring for it.  For you.
I often recommend therapies like massage, acupuncture, reiki and osteopathy to complement and support the work we are doing in psychotherapy.
In the moment, when you feel a little raw, you can try the following simple exercises:
1.  Grounding
Feel the soles of your feet on the ground.
Take a deep breathe in and slowly exhale.
2.  Breathing
Slowly, mindfully breathing in to the count of 3
Then slowly mindfully exhaling to the count of 6
3.  Move
Take yourself out for a walk in nature if you can.
Find a way to move your body.  You might like to try grief yoga, tai chi, chi gong or Essentrics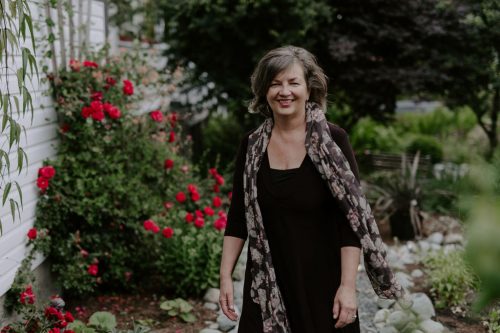 Victoria Pawlowski, M.Ed., R.C.C.
Grief & Bereavement Counsellor
Training
Being with Dying, Professional Training Program in Compassionate Care of Seriously Ill and Dying, UPAYA Institute and Zen Centre
G.R.A.C.E. Training in Cultivating Compassion-based Interactions, UPAYA Institute and Zen Centre
Being with Suffering: Tools for Clinical Practice in the Midst of Crisis, UPAYA Institute and Zen Centre
Certified Mindful Self-Compassion Teacher, Centre for Mindful Self-Compassion
M.Ed. Counselling Psychology, O.I.S.E., University of Toronto

Experience
Psychotherapist, Centre for Compassion Inspired Health
past Grief and Bereavement Counsellor, Nanaimo Hospice
past Palliative Care Volunteer, Nanaimo Regional Hospital
\