Bringing Mindful Self-Compassion to the Table
March 17, 2018 @ 9:30 am

-

4:00 pm

$185.00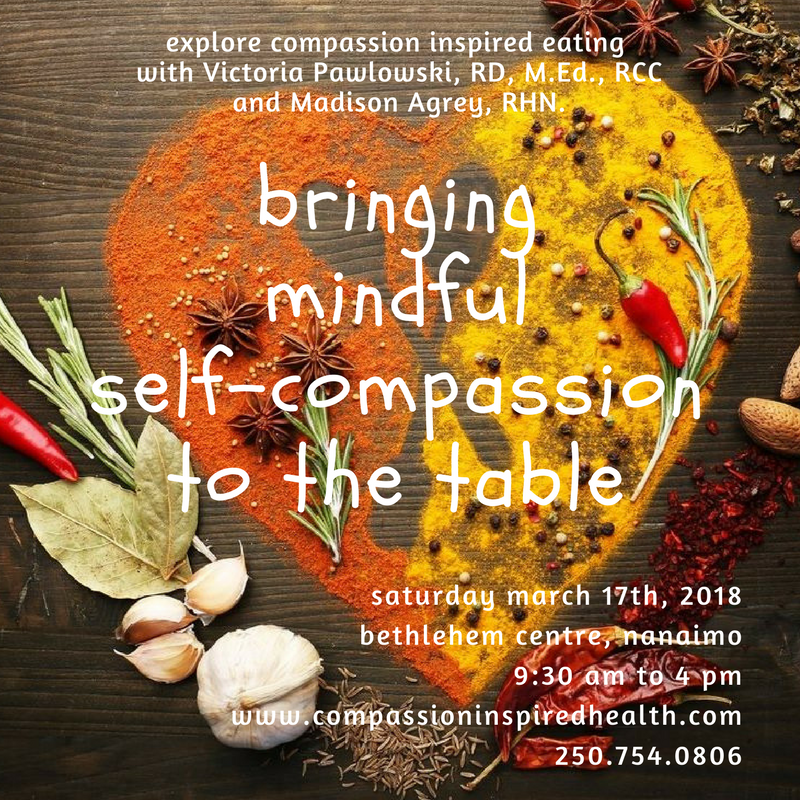 The morning will be an introduction to Mindful Self-Compassion core skills – skills we can use everyday to calm that inner critical voice and cultivate a kinder, gentler and more loving relationship with yourself.Lunch will be provided and it will be an opportunity to explore both Mindful Eating and Kindful Eating.

The afternoon will look at the latest Mind-Body Nutrition principles – cutting through the deluge of conflicting information and offering you a path to Kindful Eating.

Victoria Pawlowski, RD.,M.Ed., RCC is a Registered Clinical Counsellor, Dietitian and Mindful Self-Compassion Teacher with extensive training and experience in eating psychology.  She has integrated her years of experience and training to offer a unique, integrated, holistic approach.
Special Guest:  Madison Agrey, RHN.
Madison is a yoga instructor, mindfulness teacher and registered holistic nutritionist who offers a grounded and passionate approach to health and wellness.  She will be presenting information on Hormonal Health and how it can contribute to compassion inspired eating.
Testimonial from past participant:
"Thanks so much again for the wonderful course. You are both very talented facilitators and the event felt seamless to me because of your hospitality and skill. The tools taught are incredibly powerful and I only wish I had encountered them earlier in life, both personally and professionally! The Bethlehem Centre was a wonderful venue and I especially appreciated the home-made chicken soup, what a rare treat to have such great food at a course. Sheila Fetter."