9 Day Mindful Self-Compassion Mexican Retreat
February 14, 2019 @ 1:00 pm

-

February 22, 2019 @ 2:00 pm

$US1695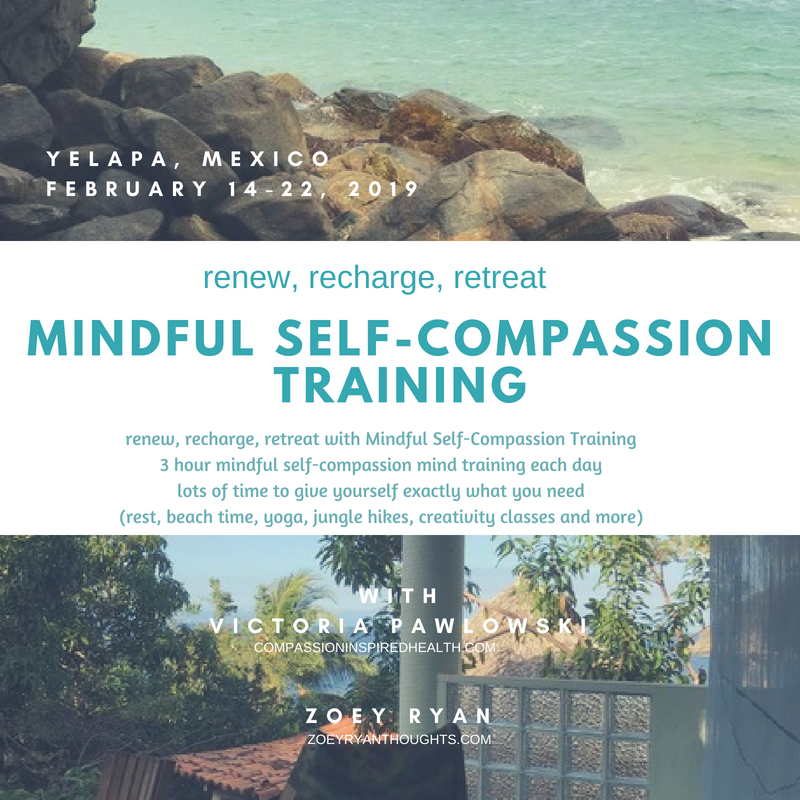 9 Day MSC Mexican Retreat will offer three hours of Mindful Self-Compassion Training each day as developed by Dr. Chris Germer and Dr. K. Neff and The Centre for Mindful Self-Compassion. A half day silent retreat will be offered on Day 6 of the retreat.
In a beautiful oceanside setting, there will also be time each day for yoga, swimming, rest, relaxation, exploring or creative pursuits with our resident artist Johanne Galipeau. The final evening together will feature a Lantern Making Class and closing ritual by the sea. This course is for anyone wanting to learn or deepen mindfulness and self-compassion skills and qualifies as one of the prerequisites for the MSC Teacher Training.
THE COURSE
The MSC program is for anyone interested in learning skills to support themselves to be happier, less reactive, less stressed and more loving towards themselves and others.
You will learn new information, skills and practices that you can use to apply your mindfulness and self-compassion skills to different areas of your life including dealing with difficult emotions and difficult people.  The skills you will learn will help you in all areas of your life.
MSC combines the skills of mindfulness and self-compassion, providing a powerful tool for emotional resilience. Mindfulness is the first step in emotional healing—being able to turn toward and acknowledge our difficult thoughts and feelings (such as inadequacy, sadness, anger, confusion) with a spirit of openness and curiosity. Self-compassion involves responding to these difficult thoughts and feelings with kindness, sympathy and understanding so that we soothe and comfort ourselves when we're hurting. Research has shown that self-compassion greatly enhances emotional wellbeing. It boosts happiness, reduces anxiety and depression, and can even help maintain healthy lifestyle habits such as diet and exercise. Being both mindful and compassionate leads to greater ease and well-being in our daily lives.
MSC can be learned by anyone. It's the practice of repeatedly evoking good will toward ourselves especially when we're suffering—cultivating the same desire that all living beings have to live happily and free from suffering.
Most of us feel compassion when a close friend is struggling. What would it be like to receive the same caring attention whenever you needed it most? All that's required is a shift in the direction of our attention—recognizing that as a human being, you, too, are a worthy recipient of compassion.
In MSC you'll learn:
how to stop being so hard on yourself
how to handle difficult emotions with greater ease
how to motivate yourself with encouragement rather than criticism
how to transform difficult relationships, both old and new
mindfulness and self-compassion practices for home and everyday life
the theory and research behind mindful self-compassion
how to become your own best teacherCompletion of this course is a prerequisite for the MSC Teacher Training program offered developed by Dr. Kristen Neff and Dr. Chris Germer and offered through The Centre for Mindful Self-Compassion.
RETREAT FORMAT
Day 1 February 14th, 2019
MSC Session Session: 2 pm to 5 pm.
Group Dinner
Day 2 February 15th to Day 8 February 21st
Breakfast 9 to 10 am
MSC Session: 10 am to 1 pm
Lunch 1 pm to 2 pm
The afternoons and evenings are yours to follow your hearts desire. You may choose to lie on the beach, go horse back riding, explore the shops or hike in the jungle.
Day 8 also includes a Lantern Making Class, group dinner and evening closing ritual by the sea.
Day 9 February 22nd, 2018
MSC Final Session finishes at 1 pm
Optional Yoga and/or Creativity Classes offered daily.
FACILITATORS
Victoria Pawlowski, R.C.C., M.Ed.,
Psychotherapist
Trained Teacher of Mindful Self-Compassion
The Centre for Compassion Inspired Health
compassioninspirehealth.com
Zoey Ryan, BSc., PCC, CMC
Life, Leadership & Executive Coach
Mindful Self-Compassion Teacher in Training
zoeyryanthoughts.com
LOCATION
Pura Vida Eco Retreat, Yelapa, Mexico
TRANSPORTATION
There are no cars in Yelapa, only footpaths so participants will need to be comfortable walking short distances to the beaches and shops. There are two beautiful beaches, one is only 5 minutes away and a larger one 20 minutes away.
REGISTRATION
Space is limited at this small Eco – Retreat Facility.
*Early bird rate (before midnight September 15, 2018): $1695 US based on ocean view, double occupancy.
*Regular rate (after September 16, 2018): $1895 US based on ocean view, double occupancy.
Single supplement, add $500 US
REFUND POLICY
No refunds available after January 1, 2019
Refunds are available before December 31, 2018 less a $100 administration fee.

FOR MORE INFORMATION
Please contact Zoey Ryan zoeyryan@icloud.com